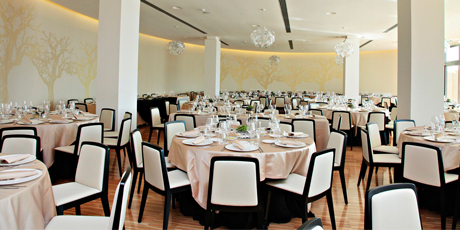 Biological local products, selected quality raw materials and antique recipes are the commanding elements inside the kitchen at the Cosmopolitan Restaurant. Homemade fresh bread and pastry including delicious brioches and traditional local cakes are made at an internal bakery inside the restaurant. Homemade pasta, unfailing stuffed Ascolan olives, fresh fruit shakes, excellent wine, distinctive oil and salt lists. Dishes are based on highly traditional regional recipes including most emblematic Italian authenticities. International cuisine is also part of the menu alternatives.

Raw materials in the kitchen undergo strict controls and are supplied by local biological production centres. Meat and fish belong to the most select local market supplier. The catch of the day arrives from Civitanova's most traditional fishing boats. The flavours and smells of the Mediterranean cuisine are guaranteed by refined cooking techniques, traditional recipes and chefs' mastery.

Cosmopolitan makes sure to meet the needs and demands of every guest. Children are catered for with special menus and vegetarian dishes are also available. The Chefs are at Guests' disposition in order to cope with certain conditions such as food intolerance or celiac disease.