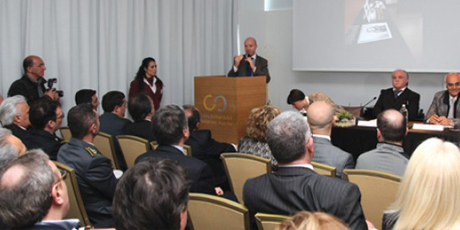 The Cosmopolitan Hotel enjoys modulable conference hall alternatives enabling flexible organizational displays of seat posts and different entrances to each individual conference space. The rooms are naturally lighted through wide glass panels and are fully equipped with high standard technology in order to provide best audio and image qualities.

The meeting room within the hotel facilities reaches 100-seat maximum capacity. These posts and spaces can be reorganized into two 35-seat halls with different entrances providing appropriate solutions for relatively small business meeting requirements. Privacy, comfort and the ideal professional atmosphere endow the ambience with qualified supporting elements for harmonious business developments.

The Conference Hall is a ideal meeting venue for larger meetings and events including fashion shows. These facilities will have maximum 400-seat capacity and will enjoy modular flexibility as well; is possible to set up of 3 smaller halls: one hall seating 180 people, and 2 halls seating 65 people each.